Chinese document contradicts Beijing's claim to Senkakus
The Yomiuri Shimbun newspaper Publication Date : 23-01-2013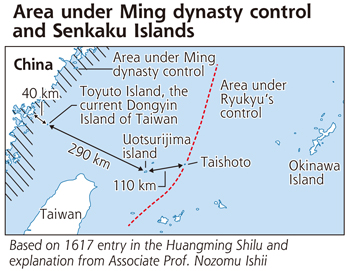 A document from the early 17th century shows that China did not control the Senkaku Islands, contradicting Beijing's more recent claims and underlining Japan's insistence that they are an inherent part of this country's territory, according to a Japanese researcher.
During China's Ming dynasty, a provincial governor told a Japanese envoy that the ocean area under the dynasty's control ended with the Matsu Islands, now under Taiwan's administration, and the sea beyond that was free for any nation to navigate, said Nozomu Ishii, an associate professor of Nagasaki Junshin Catholic University.
The Matsu Islands are much closer to China than the Senkaku Islands, which China claims to have controlled since the Ming dynasty about 600 years ago.
At a press conference Monday, Ishii said the Chinese governor's statement appears in "Huangming Shilu", the official annals of the Ming dynasty.
"This historical material proves that Japan's claim over Senkaku Islands is historically correct," he said.
"Huangming Shilu" comprise the records of the activities of Chinese emperors, addresses the throne and others. Transcriptions of the records can be found in the National Archives of Japan.
Ishii found a record in the annals dating from August 1617, which describes the arrest and interrogation of Akashi Doyu, a Japanese envoy from Nagasaki, by the head of the Chinese coast guard. The description was in the form of an address to the throne.
According to the record, the governor met the envoy and mentioned the names of islands, including one on the eastern edge of the Matsu Islands, about 40 kilometres off the Chinese mainland, that was controlled by the Ming and said the ocean beyond the islands was free for China and any other nation to navigate. The Senkaku Islands, including Uotsurijima island, are about 330 kilometres from the Chinese coast.
However, China says the border of the Ryukyu kingdom, present-day Okinawa Prefecture, lay between Kumejima island, east of the Senkaku Islands, and Taishoto island, one of the Senkakus, so Uotsurijima island and the other islands belonged to Ming-dynasty China.
Ishii says the record he found proved the Ming controlled the ocean within 40 kilometres from the mainland and the Senkaku Islands belonged to no nation. The Japanese government says the islands were put under its jurisdiction in 1895 after confirming that no nation had claimed them.
Shigeyoshi Ozaki, emeritus professor of the University of Tsukuba and an expert in international law, said: "We know the Ming had effective control only of the coastal area from other historical sources. What is remarkable about this finding is that a Chinese official made a clear statement along these lines to a Japanese envoy. This proves the Senkaku Islands were not controlled by the Ming."
http://web.archive.org/web/20130303150227/http://www.asianewsnet.net/Chinese-document-contradicts-Beijings-claim-to-Sen-41822.html
http://141414.seesaa.net/article/315184022.html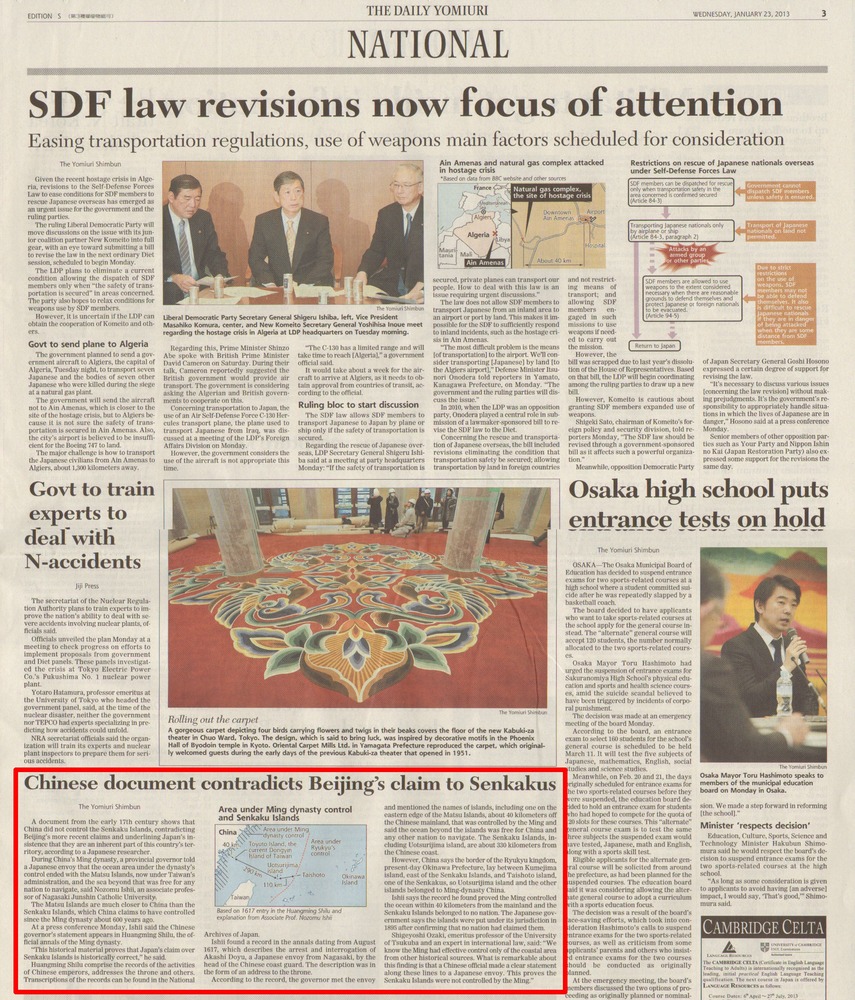 .