new york times rare report about Taiwan.
China Conducts War Games, and Taiwan Is the Target
By AUSTIN RAMZY APRIL 18, 2018
https://www.nytimes.com/2018/04/18/world/asia/china-war-games-taiwan-.html
Chinese state media released this photo from the country's largest naval exercises in decades, carried out last week off Hainan Island. An analyst compared those exercises to a military parade, but she said China's live-fire drills Wednesday in the Taiwan Strait were "a warning." Credit Li Gang/Xinhua, via Associated Press
HONG KONG — China carried out live-fire military drills in the Taiwan Strait on Wednesday, its state news media reported, an exercise intended to show the growing strength of its navy and deliver a message to self-governed Taiwan, which China claims as its territory.
The war games were the first in the Taiwan Strait since 2016, Chinese state television reported. They were held in a two-square-mile area that includes two islets off the city of Quanzhou in Fujian Province. That area is about 125 miles west of the city of Hsinchu on Taiwan's west coast.
China has been increasing pressure on Taiwan in recent months, while the United States has taken steps to show support for the island, a longtime ally. While the drills Wednesday were most likely planned long in advance, they come at a time when the United States and China are increasingly at odds over a number of issues besides Taiwan, particularly trade.
Liu Jieyi, the director of China's Taiwan Affairs Office, said earlier this week that the exercises were being planned with Taiwan in mind. "Our military exercises are carried out to protect the sovereignty of our motherland and territorial integrity," he told reporters Monday on the sidelines of a cross-strait business conference in the central Chinese city of Zhengzhou.
Last week, China's leader, Xi Jinping, attended large-scale exercises by the country's navy off Hainan Island in the South China Sea. He was shown on state television wearing camouflage fatigues and watching as fighter jets took off from the Liaoning, China's first aircraft carrier.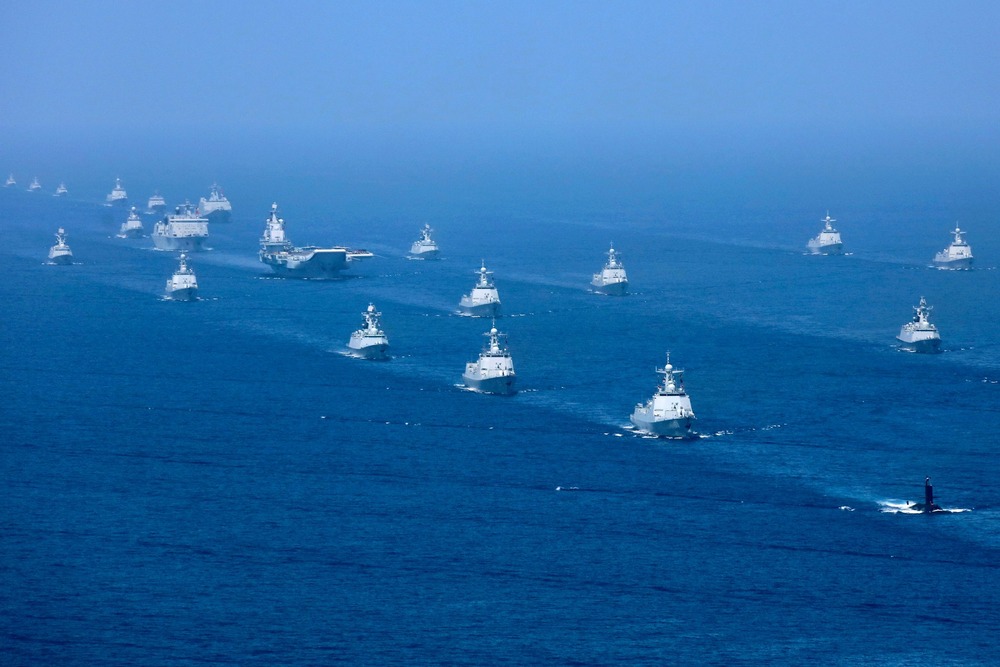 As China Puts Pressure on Taiwan, Signs of a U.S. Pushback FEB. 22, 2018
In Taiwan, U.S. Official Says Commitment 'Has Never Been Stronger' MARCH 21, 2018
Taiwan President Says China's Military Expansion Could Destabilize Asia DEC. 29, 2017

Those exercises, which included 48 ships, 76 aircraft and more than 10,000 personnel, were the largest ever carried out by the People's Liberation Army Navy, the state news media said.
"The task of building a powerful navy has never been as urgent as it is today," Mr. Xi said Thursday in a speech during the exercises.
The South China Sea exercises were "more about a military parade at sea than anything else," said Bonnie Glaser, senior adviser for Asia at the Center for Strategic and International Studies.
"But in the Taiwan Strait it is a warning," she added. "I think it's sort of usefully timed but not really planned for this particular moment. The U.S. and Taiwan are seen as heading in a direction that is getting perilously close to Chinese red lines. That is a perception by the Chinese."
Last month, during an important legislative meeting in Beijing, Mr. Xi issued a stern warning against challenges to its claims over Taiwan or its control of Hong Kong, the former British colony where calls for independence have risen in recent years.
Taiwan held its own military drills on its east coast last week, which President Tsai Ing-wen attended. "We have every confidence and determination to defend our country & #democracy!" she wrote on Twitter. In comments to reporters, she cautioned against interpreting the exercises as an overt response to China's South China Sea drills the day before.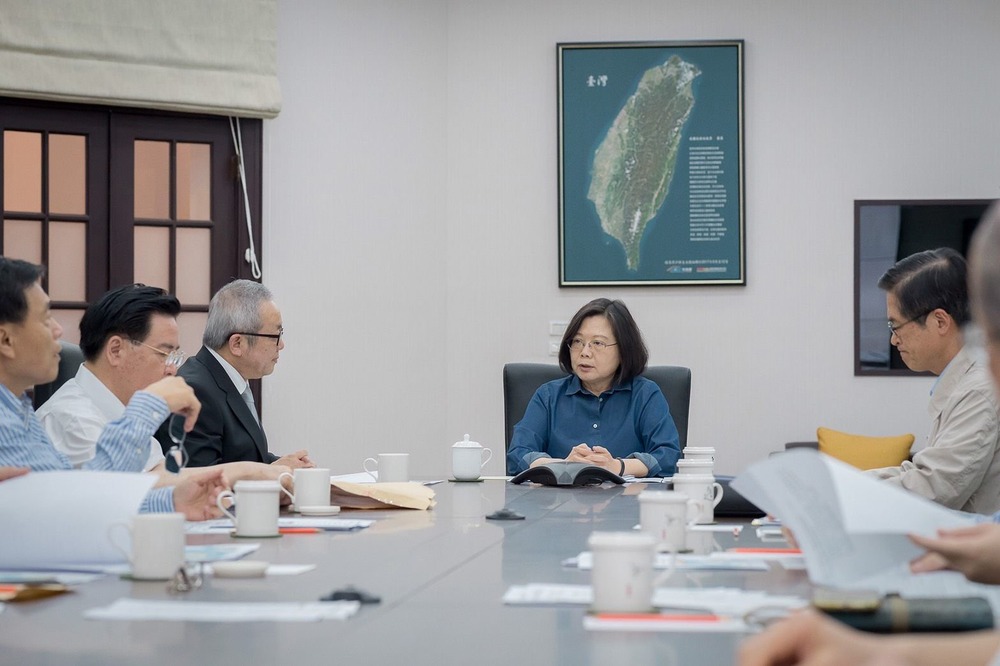 President Tsai Ing-wen of Taiwan at a national security meeting in Taipei, the capital, on Sunday, in a photo released by her office. Taiwan held its own military drills on its east coast last week, which Ms. Tsai attended. Credit Taiwan Presidential Office/EPA, via Shutterstock
The series of recent exercises is more a continuation of longstanding practices than a significant escalation of military activity, said Sheryn Lee, a lecturer in security studies at Macquarie University in Sydney, Australia.
"They have done those kinds of exercises before," she said. "They're usually reminding Taiwan of their presence right next door."
While the United States is Taiwan's biggest backer, its support is moderated by Chinese demands to limit the island's international recognition. Under the so-called One China policy, Washington has formal political ties with Beijing, but it maintains unofficial relations with Taipei.
President Trump has been willing to show American support for Taiwan more publicly than his recent predecessors. He broke decades of precedent barring official contact by taking a phone call from President Tsai in December 2016, after he was elected but before he took office.
The recent military exercises come as the Trump administration has challenged China over trade, threatening tariffs that have raised concerns about a damaging trade war. Mr. Trump has previously questioned why the United States should be bound by the One China policy if Beijing will not budge on trade.
Last year, Mr. Trump signed legislation that included encouragement for mutual port calls by American and Taiwanese naval vessels. And last month Mr. Trump signed the Taiwan Travel Act, which encourages high-level official visits between the United States and Taiwan. The bill passed unanimously in the House and Senate despite extensive criticism from China.
Deputy Assistant Secretary of State Alex Wong visited Taiwan shortly after the travel act was signed. He told a gathering of business people and Taiwanese officials that the United States wanted "to strengthen our ties with the Taiwan people and to bolster Taiwan's ability to defend its democracy."
The American Institute in Taiwan, the de facto United States embassy, is opening a new office complex in Taipei this summer, which could lead to other visits from senior American officials.
Mr. Trump's new national security adviser, John R. Bolton, has long been an advocate for Taiwan, writing last year in The Wall Street Journal that the United States should consider a closer military alliance with it to counter Chinese belligerence.
Earlier this month, Chinese officials complained after Taiwan revealed that the United States had approved licenses for the sale of technology that would help Taiwan build its own submarines.
China has also stepped up flights of strategic bombers and fighter jets around Taiwan in recent months. And the Liaoning and other naval ships have sailed through the Taiwan Strait, though they stayed on the Chinese side of the body, which is 81 miles wide at its narrowest point.
On a local news talk show last week, Ms. Tsai rejected an assertion that Taiwan was being helplessly drawn into tensions between the United States and China
"Many people say we are pawns of other people," she said. "But don't forget, we are also chess players."
.
.