it is wrong. Landing and Surveying and Rescue in the long long history, not only linkage.
http://english.ryukyushimpo.jp/2017/05/25/27043/
New research finds Japan's linkage with Senkaku Islands dating back to 1819

May 12, 2017 Ryukyu Shimpo
On May 12, the government published a research report for 2016 on Okinawa Prefecture's Senkaku Islands and Shimane Prefecture's Takeshima. The report included document(s) stating that Ryukyu royalty arrived on the shores of the Senkaku Islands in 1819. This is 26 years earlier than previously thought, according to the oldest disembarkation records by the English from 1845.
The government recognizes the document(s) as clearly reaffirming that the Senkaku Islands are, historically and by international law, a territory inherent to Japan. Jun Matsumoto, Minister in charge of Ocean Policy and Territorial Issues, made a comment during a press conference on May 12. He said, "Presenting objective evidence domestically and internationally is the Japanese way. (We) will continue to conduct (more) research."
The disembarkation record(s) included in the report were found in the "Family Tree: Genealogy of Ryukyu" contained in the "History of Naha City" owned by the Okinawa Prefectural Library. The record(s) describes how Ryukyu royalty had drifted ashore on an island named Yukunkubajima Island in 1819 and subsequently searched for spring water. This island is believed to be a part of the Senkaku Islands.
The Meiji government integrated the Senkaku Islands in 1895. Now,having disembarkation record(s) listing a date more than 70 years before then, the Cabinet Secretariat said, "This goes to show that even before (the Senkaku Islands) were integrated, Japan had an ongoing relationship with the Senkaku Islands."
The government researched Japan's territorial rights over the islands via documents and literature owned by libraries and archives. Every year since 2015, the government has been publishing reports incorporating documents deemed to be vital. This time around, the government researched about 330 documents related to the Senkaku Islands and about 340 documents related to Takeshima.
(Original article by Nozomi Takeuchi of Mainichi Shimbun)
(English translation by T&CT and Chelsea Ashimine)
.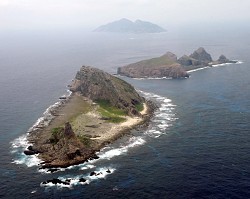 (From front to back) Minamikojima Island, Kitakojima Island, and Uotsurijima Island of the Senkaku Islands, taken in November, 2010 by Tsuyoshi Nishimura
http://english.ryukyushimpo.jp/2017/05/25/27043/
original japanese
http://ryukyushimpo.jp/mainichi/entry-494772.html
.