Kanbun and Romanized names of Senkakus
Table of Contents
Section 1 Overview
Section 2: Local pronunciations of Kanbun names coexist with local names
Section 3: Japanese Kanbun name
Section 4: Mandarin romanizations indicating effective control by Japan conversely
Section 5: No Fukkenese pronunciations
Section 6: Japanese names after modern times
Section 7. Similar ideas apply to Japan or Zipangu

Section 1 Overview
The Japanese press generally says "the Senkaku Islands, or Chinese name Chogyo-to". In the main English society, they are generally called Senkaku/Diaoyu Islands. But in historical materials, Chogyo-to (Mdr. Diaoyu-dao) is not actually a Chinese name, although there is a Chinese pronunciation of it. In the press, using "Senkaku Islands, also called Chogyo-to as another name", would be most appropriate from a historical perspective. In English presentations from Japan, the name should be Senkaku/Chogyo-to.
The oldest name Chogyo-sho (Mdr. Diaoyu-xu/yu) is based on a 1534 travel record to the Senkakus for which Ryukyu Kingdom's officials provided navigation. A Ryukyuan most likely coined the name. The providers of the oldest recorded names in later stages Chogyo-dai (Mdr. Diaoyu-tai) and Chogyo-to (Mdr. Diaoyu-dao) were also Japanese, includes Ryukyuan. Kanbun (Kanji literal writing) is common in East Asia, much like Latin in Europe. By that measure, an island is not Italian territory just because it has a Latin name.
The first Romanization of the islands appeared in Europe in 1751 as "Tiao-yu-su", which was northern Chinese Mandarin pronunciation (Figure 1). This reflected a lack of information about the Ryukyus in Europe, Japan had an isolationism policy in Ryukyu at the time. That is why French Jesuit Antoine Gaubil sent information on the Ryukyus to Paris via Pekin in 1751. As well as the Senkakus, entire area names in the Ryukyus were presented in Mandarin Romanization's in Europe. This approach reflects a completeness of Japan's isolation policy Conversely.
Figure 1. Early Romanizations of Senkaku island names
names of

places

Document Creator

A. D.

notes

Pronouciate

in japanese

Pronounciation

by P. R. China

釣魚嶼

Chinkan (envoy)

1534

Ryukyu pilot

Chogyo-sho

Diaoyu-yu/xu

釣魚臺

Tei Junsoku

1708

Ryukuan

Chogyo-dai

Diaoyu-tai

Tiaoyu-su

Gaubil

1751

Kanji釣魚嶼

Chogyo-sho

Diaoyu-yu/xu

Tsio ghio tai

Klaproth

1832

Kanji:釣魚臺

Chogyo-dai

Diaoyu-tai

Koobisan

Klaproth

1832

Kanji:黄尾山

Kobi-sho

Huangwei-yu/xu

Sekbisan

Klaproth

1832

Kanji:赤尾山

Sekibi-sho

Chiwei-yu/xu

釣魚島

N. Oshiro

1885

Japanese

Chogyo-to

Diaoyu-dao

Tiao-yu tai

Samuel Williams

1871

Kanji:釣魚臺

Chogyo-dai

Diaoyu-tai

Chogyo-to

S. Yoshiwara

1901

Kanji:釣魚島

Chogyo-to

Diaoyu-dao

Diaoyu-dao

P. R. China

after 1972

Kanji:釣魚島

Chogyo-to

Diaoyu-dao
The Romanization of Chogyo-dai first appeared as "Tsio-ghio-tai", based on the japanese pronounciation, Germany's Julius Klaproth used in French 1832 (Figure 2). The first Romanization of Chogyo-to appeared for the first time in 1901 just as "Chogyoto", in a paper by Shigeyasu Yoshiwara (Figure 3). The recently common "Diao-yu-dao" first appeared much later, after 1972.
Figure 2. Julius von Klaproth "San kokf tsou ran to sets" 1832, National Diet Library of Japan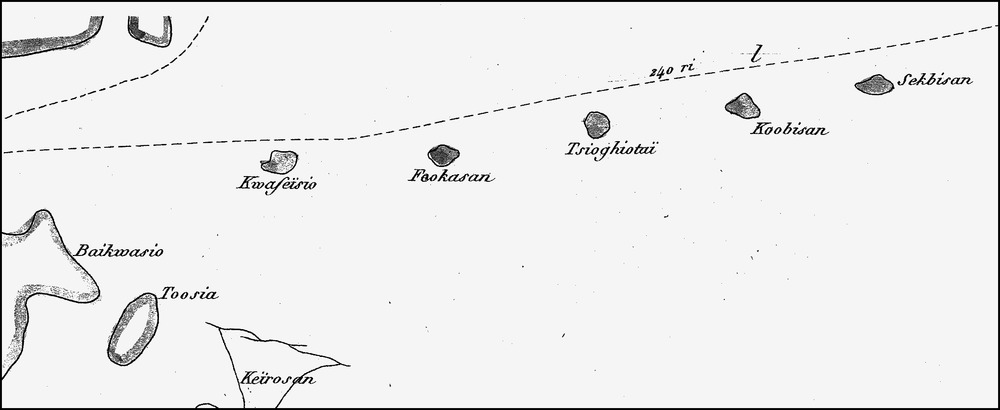 Figure 3 Shigeyasu Yoshiwara 1901, "Geologic Structure of the Riukiu (Loochoo) Curve, and its Relation to the Northern Part of Formosa" in "The Journal of the College of Science, Imperia University of Tokyo, Japan" no. 16
"Chinese characters" : Kanji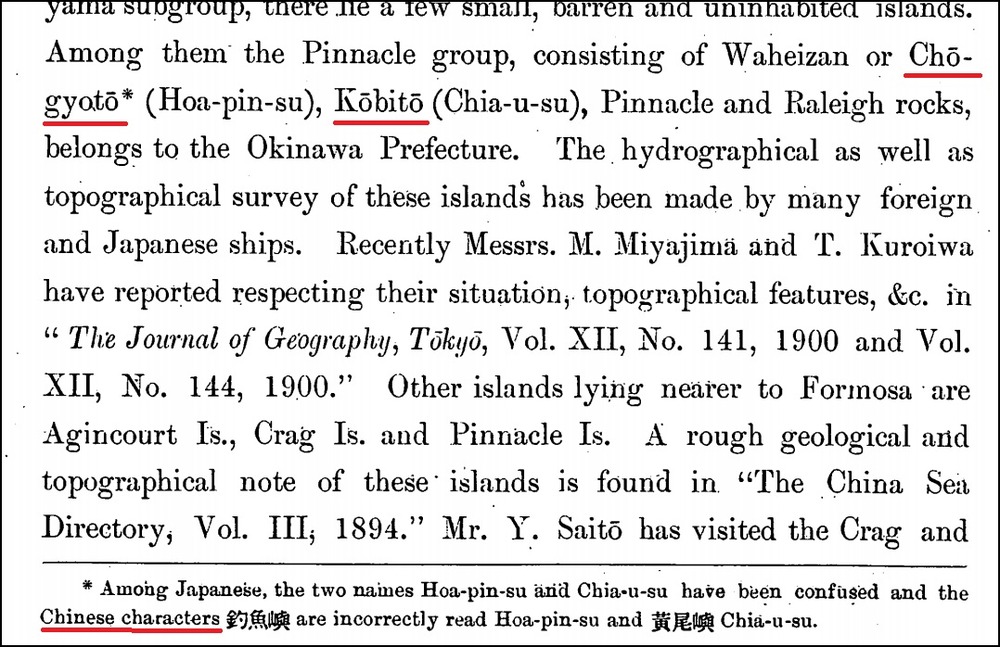 Section 2: Local pronunciations of Kanbun names coexist with local names
Kanbun (Mdr. Hanwen, literal Kanji writing) is common in East Asia and is the equivalent of Latin in Europe, for example , Caesar (sound like Siizer) as "Kaesar", and John as "Giovanni"and "Iohannes". However, Kanji (characters originated from ancient China) cannot record different regional pronunciations, in contrast to Romanizations. Further, native or local names differ from Kanbun names. On that basis, there are local names like Luzon and Mindanao, same as Latinate names like Philippines.
Americans and Italians use Roman alphabet nowadays, we can not merely call it Italian Alphabet. As such, Japanese and current Chinese keep using Kanji, which was created by ancient people of Yellow River shedding area. we can not merely call it Chinese charactors (See Figure 4).
Figure 4. Table comparing Latin, Kanbun, Mandarin, and local names
| | | | |
| --- | --- | --- | --- |
| Kanbun & Latin | Mandarin | local names | area |
| 東京 Tokyo | Dongjing | 江戸 Yedo | Japan |
| 馬關 Bakan | Maguan | 下關 Shimonoseki | Japan |
| 崎陽 Kiyou | Qiyang | 長崎 Nagasaki | Japan |
| 凾嶺 Kanrei | Hanling | 箱根 Hakone | Japan |
| 琉球 Ryukyu | Liuqiu | 沖繩 Okinawa | Japan |
| 釣魚島 Chogyo-to | Diaoyu-dao | 魚釣島 Yukun, Uotsuri | Japan |
| San Salvador | -------- | Guanahani | Bahama |
| James River | -------- | Powhatan River | U. S. |
| 基隆 Kiryu | Jilong, Keelung | 鷄籠 Kelan | Taiwan |
| 宜蘭 Giran | Yilan | 噶瑪蘭 Kbalan | Taiwan |
.
.
.
.
.
.
.
.
.
.
.
.
.
.
.

.
.

Section 3: Japanese Kanbun names
The oldest mention of Chogyo-sho (Kanji : 釣魚嶼, Mdr. Diaoyu-xu/yu, now Senkakus) appeared in 1534 in Shi Ryukyu roku (Mdr. Shi Liuqiu lu) by Chinkan (Mdr. Chenkan). He wrote that it troubled him not to know the vessel's route to Chogyo-sho when he was preparing to depart for Ryukyu from Fukushu (Mdr. Fuzhou). Navigators dispatched from the Ryukyu Kingdom arrived at the port, and he was able to depart with them on board on the Min (Mdr. Ming) emissary vessel. The ship then passed through Chogyo-sho.
In a letter Chinkan addressed to the throne emperor included in Shi Ryukyu roku, he wrote that "we depend on foreigners going forth and back the ocean route." The "foreigners" were Ryukyuans. By going forth and back, he meant that Ryukyuans navigated midway of the shipping route, not only around Ryukyu waters. The recent official Chinese position on the Senkakus ignores this text.
Shi Ryukyu roku also shows that the Fukkenese (Hokkiense, Mdr. Fujienese) operated Chinkan's Chinese vessel after reaching Ryukyu Kingdom waters. His description shows the division of labor between ship operators and navigators. This is because Ryukyu Kingdom's officials aboard would inevitably navigate the ship inside Ryukyu territory. Similarly, we assume that Ryukyu officials navigated in Senkaku waters and that Fukkenese operated the vessels.
During the era of sail, there is no record of anyone departs from Fukken or Taiwan, arrive at the Senkakus, directly return to Fukken or Taiwan. Those without knowledge of the Ryukyu route were invariably ignorant of the Senkaku one. The fact that Ryukyu Kingdom officials navigated on Chinese vessels bound for Ryukyu indicates that the Chinese could not independently navigate in Senkaku waters.
We can therefore safely assume that Chogyo-sho is a Ryukyuan Kanbun name, and was not from the Min (Mdr. Ming) Empire. We do not know exactly who coined the name. Chinkan recorded it in the travel note to the neighboring country, not in the topography or local chronicles of his home coutry. Chinkan did not discover Senkakus, just as Christopher Columbus did not discover America.
Section 4: Mandarin romanizations indicating effective control by Japan conversely
In late 18th century, Europeans started to write about Chogyo-sho (Senkakus) using Mandarin pronunciation "Tiaoyu-su". The source was Antoine Gaubil who referenced it in a missive from Pekin to Paris in 1751 based on Kanji names in Chuzan Denshin roku (Mdr. Zhong shan chuan xin lu) by Jo Houkou (Mdr. Xu Bao Guang). (see Figure 5).
Figure 5 Senkaku's names Romanized from Mandarin by Antoine Gaubil.
Gaubil

& cognate

Kanbun

Japanese readings

of Kanbun

Local names

in Japan

Hoa-pin-su

花瓶嶼,

和平嶼

Kahei-sho,

Wahei-sho

Yukun Kubashima,

Uotsuri Ji(shi)ma

Tiao-yu-su

釣魚嶼

Chogyo-sho

Kuba-shima

Hoan-oey-su

黄尾嶼

Kobi-sho

Kuba-shima

Tche-oey-su

赤尾嶼

Sekibi-sho

Kume Aka-shima
From the outset, all of the Ryukyu Kingdom was under Japan's isolation policy and Anti-Christian Edicts that were enforced up to Yonaguni(kuni) Island, the westernmost end of Ryukyu Kingdom. Thus, Christian missionaries could not enter Ryukyu; there was a lack of information in Europe from within the Ryukyus. That was when Gaubil's information reached Europe from Pekin, which the Europeans fully absorbed. So, the Europeans adopted Gaubil's Romanizations not only for the Senkakus but for all Ryukyu geographical names. The fact that Japanese pronounciations of names did not spread outside Japan indicates the nation's complete control over Ryukyu Kingdom.
Gaubil's report was originally titled Mémoire sur les Isles que les Chinois appellent isles de Lieou-kieou (Memory for Islands that Chinese call Liuqiu), with which Gaubil presupposed that there were the other local names for places within the Ryukyus. The same applied to Senkaku's "Tiao-yu-su," and Gaubil did not intend that the Mandarin pronunciation as an official one. There are many reports on China by Jesuit missionaries, with some on Taiwan. But none of these reports mentioned the Senkakus. They appeared only in Gaubil's report on the Ryukyus. (see Figure 6).
Figure 6. Key examples of Romanized Ryukyu place names by Antoine Gaubil.
Kanji in

Chuzan-Den

-shin-roku

Current Mandarin

pronounciations

of Kanji

Romanization

by Gaubil and

cognate

Local Japanese

(Ryukyuan) names

硫黄山

Liu huang shan

Liu hoang chan

Iou Tori Shima

大宜味

Da yi wei

Tay-ouey

O-o-gi-mi

葉壁

Ye bi

Ye-pi

Iheya

首里

Shou li

Cheu li

Shuri

姑米

Gu mi

Koumi

Kume jima

馬齒

Ma chi

Ma tchi

Kerama

太平山

Tai ping shan

Tay ping chan

Miyako

八重山

Ba chong shan

Pa tchong chan

Yaeyama

今歸仁

Jin gui ren

Kin kouey gin

Nakijin

姑彌

Gu mi

Kou mi

Komi (Iriomote)

由那姑呢

You na gu ni

Yeou na kou ni

Yonakuni

釣魚臺

Diao yu tai

-----

Uotsuri (in Senkakus)

釣魚嶼

Diao yu yu/xu

Tiao yu su(sü)

Kuba Shima (in Senkakus)

花瓶嶼

Hua ping yu/xu

Hoa pin su(sü)

Uotsuri (in Senkakus)

黄尾嶼

Huang wei yu/xu

Hoan oey su(sü)

Kuba Shima (in Senkakus)

赤尾嶼

Chi wei yu/xu

Tche oey su(sü)

Kume Akashima (in Senkakus)
Section 5: No Fukkenese pronunciations
Let us compare individual Senkaku islands names in Kanbun and in Romanizations in European maps and chronologies after Gaubil in 1751 (Figure 7). I have listed Romanizations in original documents from cognate sources with Gaubil. Other than that, we have applied general Romanization's.
Figure 7. Comparative table of Kanji pronounciation for Senkaku Islands names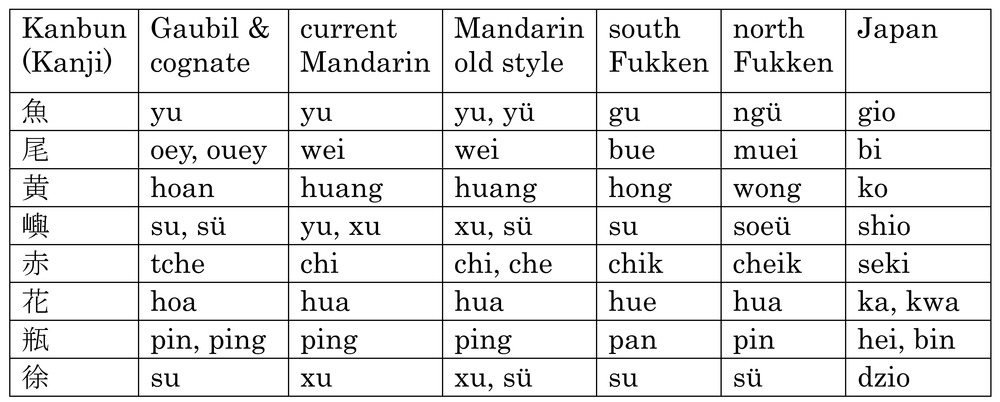 Current Chinese claims that these names related to Gaubil are Fukkenese (Mdr. Fujinese) pronunciations. The contention is that the Fukkenese traditionally fished in the Senkakus. However, the table makes it apparent that Romanizations for the Senkakus were not from Fukkenese but from Mandarin.
Section 6: Japanese names after modern times
After Gaubil and through the early 19th century, all European maps presented place names using Mandarin pronunciations for the Ryukyus, because Ryukyuan Japanese place names were unknown. In around 1850, Japanese Ryukyu names like Meiako, Ishigaki, and Iriomote began reaching Europe. In the process, geographical documents often presented both Mandarin and Japanese names. For an example, Johnston's map showed Tai-pin-san in Mandarin (Jp. Tai-hei-zan) and Miyako in Japanese local. (see Figure 8)
Figure 8 Johnston "China and Japan" 1893 www.davidrumsey.com number 3287040
Mandarin: Tai-pin-san, Pa-tsung-san, Kukien.
Japanese: Miyako, Ishigaki, Iriomote.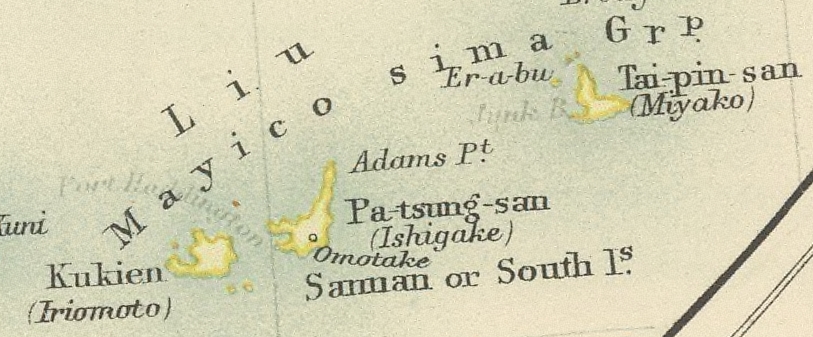 As time passed, the names of more well known islands changed into Japanese, while less familiar ones remained in Mandarin pronounciations. For example, Johnston's map left Japanese Kume-jima as the Chinese Kumisang (Figure 9).
Figure 9 Johnston "China and Japan" 1893 www.davidrumsey.com, number 3287040
Chinese "Kumisang" not be accompanied with Japanese Kume-jima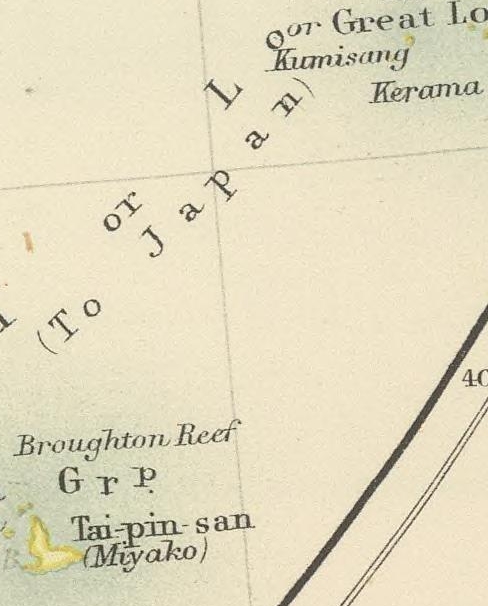 Germany's Debes map (Figure 10) concurrently presented Mandarin pronunciations of Tai-pin-san and Pa-tsung-san for the Japanese names Mijako and Ischigaki, noting "Chin." to indicate they were Chinese names. But there was no "Chin" note showing Mandarin Tai-a-usu (Tiao-yu-su) and Hoa-pin-su for the Senkaku islands. The equivalent Japanese names of Yukun Kuba-shima, Kume-Aka-shima, and others in Senkakus were missing as these islands had very low profiles. The Senkaku Islands mentioned in the Debes maps were at the same stage as Johnston's "Kumisang".
So, it was until very late that Japanese Ryukyu names of places became known in Europe, reflecting completeness of local control under Japan's isolation policy.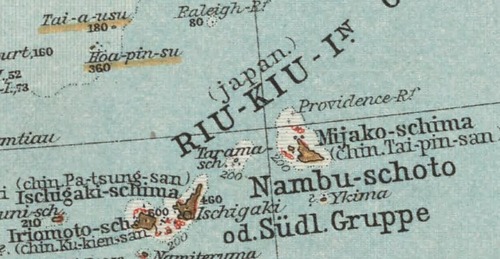 Figure 10 Debes "Ost-Asien" 1898 www.davidrumsey.com number 8002084
Section 7. Similar ideas apply to Japan or Zipangu
The prevalent theory for the origin of the names Japan, Japon, and Iapon is that they are Cantonese pronunciations of Kanji for Nippon. Today, the Cantonese also read Nippon as "Yatpun". "Zipangu" almost certainly derived from the Mandarin pronunciation of Kanji during the Gen (mdr. Yuan) Empire. So, Japan itself as well as the Senkakus and Ryukyus had modern Chinese pronunciations.
Five civilizations spread from Mesopotamia, to Egypt in the west and the Indus Valley in the east, moving further west to Greece and was to the Yellow River. The big historical picture for Eastern Eurasia is that advanced civilizations always came from West. In comparison, the east was considered a backwoods and had Western names.
From a Europian perspective, Chinese civilization was even more remote than that of India, and was called "China" originated from Sanskrit "Ciina". When he reached Pekin by land, Marco Polo described Japan as "Zipangu", which was a Mandarin pronunciation during the Gen Empire. The Portuguese later got to know Japan by sea, making the Cantonese pronunciation "Yapon" more common. None of the above proves that China is actually an Indian territory or that Japan is a territory of Canton. The same principle applies to Christian missionaries who came from west to Pekin introduced the eastern Senkakus using Mandarin pronunciations. All this goes to show that the geographical directions in which civilizations have traveled has nothing to do with sovereignty.
.